We are proud to introduce our new location in Liberty County!
Please click above for more details.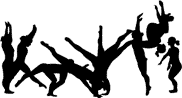 1-888-548-4545 Signup now!
Call to TRY a class for FREE



Locations:


Savannah Mall Shopping Center
14045 Abercorn Street, #2506
Savannah, GA 31419

To view class schedules and pricing information, please select an icon on the right.
Click below to see a schedule.......



IWA gym shoes now available in the U.S. exclusively through Coach Wayne Gymnastics
Wear the best. IWA is the choice of champions! Styles 499, 500 and 502 available in all sizes. Visit our webstore to see all IWA gymnastics shoes. These great shoes are also available at our Savannah Mall location at 14045 Abercorn St. Savannah, GA 31419.







Coach Wayne.com offers novice and experienced gymnasts, tumblers and cheerleaders a wealth of information, camps, clinics, classes, videos and online lessons, and uniquely personal access to one of the internet's best collections of gymnastics knowledge you can find - Coach Wayne's TumblingTIPS.

Coach Wayne, a.k.a. Wm. Wayne Evans, has been involved with tumbling instruction since 1977 and has taught private lessons, camps and clinics in both the United States and Europe. Among his accolades, Coach Wayne has produced eight instructional videos, the top-selling seven video set "Better Back Handsprings", "Basic Handstand Position" and seven animated e-book lessons including "Benchmarks of Excellence". His "Tumbling Tips" articles are read by hundreds of thousands of students and teachers worldwide. He was the Head Coach for the Savannah College of Art and Design cheerleading team 2001 through April 2007. Coach Wayne is the executive coach of 2004 Gymnastics World Cup Gold Medallist and two-time Olympian, Zuzana Sekerova.
---
At Coach Wayne Gymnastics, Our philosophy
is simple, but it takes your commitment: "Have Fun, Be Safe, Push Hard!" If you want to learn a lot about gymnastics, and have fun doing it, you have come to the right place!